FREE BUSINESS ADVISORY GUIDE:
12 Little-Known Facts Every Business Owner Must Know About Data Backup, Security And Disaster Recovery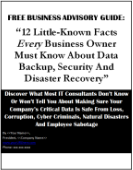 If you are a business owner on tape drives, external hard drives or USB devices to backup your data, then it's critical for you to get and read this informative white paper. You'll learn what most IT consultants don't know or won't tell you about making sure your company's critical data is safe from loss, corruption, cyber criminals, natural disasters and employee sabotage, in addition to:
The only way to know for SURE your data can be recovered if lost, corrupted or deleted – yet fewer than 10% of businesses have this in place
7 critical characteristics you should absolutely demand from any offsite backup service; do NOT trust your data to any company that does not meet these criteria.
Where tape backups fail and give you a false sense of security.
The #1 cause of data loss that most businesses don't even think about until their data is erased.
Enter your information below to gain instant access to this report:
Important! We hate spam as much (or more!) than you and promise to NEVER rent, share, or abuse your e-mail address and contact information in any way.
We would not go anywhere else
For more than 15 years, Marchese Computer has provided us peace of mind knowing that we have the latest updates and protection without us having to do a thing. For our 24 hour business, Marchese Computer is always very responsive to any issues that happen no matter what time of the day or night.   MCP has "bailed us out" on a number of occasions. They always make you feel that you are their most important customer. We would not go anywhere else.
Responsive to our needs
We have worked with Marchese Computer Product, Inc. for more than 15 years and the single biggest benefit to our company is their responsiveness to our needs.  They have always made themselves readily available to provide all of our technological support no matter what the circumstances. I have never had the need or the desire to work with any other IT firm as the Staff at Marchese Computer is well educated and versed in all IT Solutions.   For any IT solutions we have needed at our Law firm they have provided efficient and on point services at a reasonable price.
Took the worry and complexity out of IT for us.
We moved to Marchese Computer's managed services so we could take the worry and staffing needs out of IT.   Paul and his staff have provided personal service and spot on recommendations to us of over a decade and they always are willing to go the extra mile in making sure our goals are met within budget..  Simply put you should call Marchese Computer today, you won't be disappointed..
Stands behind their work
The simple answer to why Marchese computer over our old provider is Knowledge, fast service, and they never tried to sell me something I didn't need.  They listened to what our needs were, explained the technology and guided us through integrating our two facilities with Phones, Video, Firewalls, and internet connections.
Marchese Computer stands behind their work and stays until the job is done.  They are a local company with a lot of year's experience.  You can rely on the local guys at Marchese computer.